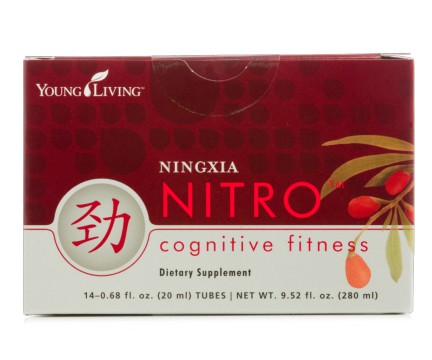 Just bought some of this to help with stamina while driving on vacation. If you want a chuckle, check out the video I've added at the end :)
NingXia Nitro
™combines 100% pure essential oils with naturally powerful ingredients to lift one's mental clarity andfocus while also providing a surge of energy when needed.
Primary Benefits
** Increases mental fitness, cognitive alertness, and physical acuity
** Enhances athletic performance and endurance
** Boosts energy and serves as a daily pick-me-up
Who Should Use This Product?
**Individuals looking to increase physical performance and endurance
**Individuals interested in improving focus
**Individuals looking for convenient, on-the-go pick me up
Ingredients
Purified water, Nitro juice blend concentrate [Cherry juice, Kiwi juice, Blueberry juice, Acerola puree, Bilberry juice, Black currant juice, Raspberry juice, Strawberry juice, Cranberry juice), Coconut nectar, Nitro Energy blend (D-Ribose, Green tea, Choline bitartrate, B3, B12, B6, Mulberry leaf extract, Korean ginseng extract, Folic acid, Potassium iodide], Natural flavors, Pectin, Xanthan gum, Nitro™ Alert oil blend: Vanilla† (Vanilla planifolia) oil, Chocolate oil, Yerba mate oil, Mentha spicata (Spearmint)† oil, Mentha piperita (Peppermint)† oil, Myristica fragrans (Nutmeg)† oil, Piper nigrum (Black Pepper)† oil, Wolfberry seed oil] †100% pure, therapeutic-grade essential oil
Testimonies From Friends


"Red Bull, move over! You have been replaced with an organic, caffeine-free replacement that increases my physical performance and endurance." ~Jeanmarie H.
"I drink Ningxia Red. My son drinks Nitro for practices, games, track meets. He does say it helps to boost his energy. He is adamantly opposed to using hormones or drinking the energy drinks so he feels like he gets a boost from the nitro." ~Mary K.
"I love Nitro. I use it during training -circuit training and running. I usually save it for the just more than half way through a workout point to pep me up for the second half. My kid uses it for weight training and does the same. (For longer runs, I'll probably plan one every two hours.) They're tiny so they're easy to stash to take on the go and they taste great IMO, even warm. I also drink Ningxia Red every morning in my smoothie. :) For me, NR is a daily sort of thing; Nitro is for when I need an extra boost. I'd also drink one on a long car ride, if I was working late and needed something extra, etc. I don't do commercial energy drinks or gatorade because of the chemicals, especially the artificial colors. Nitro = fast short term energy for me. " ~Beth T.
Find more testimonials HERE!